Perach nurtures
children of all backgrounds and ages,
with every kind and level of special needs,
wherever they are in Israel,
to help them reach their highest potential,
together.
Make their new year healthy and safe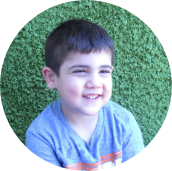 My son Michael talks to me!
Michael is a special kid. He is sensitive and loving but couldn't really communicate at all. He lived with his grandmother during the week and I would pick him up every Friday to spend the weekends together. I had to keep him apart from the other kids as much as possible because he was so sensitive to the sounds of children playing or talking, that it would cause him physical pain!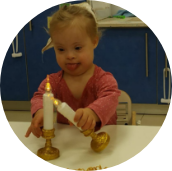 Shaked, our baby, had a shaky start..
How would you feel if you had a special needs baby and you had nowhere to turn? Shaked has Down Syndrome, and has a ton of health problems. We were so young and felt all alone. We would sit on buses for hours to seek the help our baby needed, and mostly, worked with her at home on our own. There were always issues to deal with, and the weight on our shoulders was heavy